Classroom Games that Make Test Review and Memorization Fun!
Scroll down and click on the link to view each game based resource. Be sure to check back often as this page is updated anytime a new game becomes available.Some reources are available free to try, others are only availabe on our premium web site.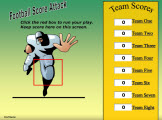 Featured Resource - Football Score - Football Game for Whole Class in PowerPoint
Just in time for the football season. An engaging football themed game for the whole class! Instructor asks a question, if a student or team gets the question correct, the teacher clicks a button that runs a play. Computer then determines if it was a touchdown, field goal, or fumble. The team with the most points at the end of the game wins. No preparation required, just have a sheet of vocabulary or review questions in your hand and launch the game. (Whole Class Participation Game) Learn more about the game.

Av

Purchase access to this game and 100+ reources now! - Only $19,99.


Select a category or scroll down to browse all
| | | |
| --- | --- | --- |
| Sports Based Games & Resources | Holiday Based Games & Resources | Bingo Card Generators |
| Whole Class Review Games | Customizable Board Games | TV Game Shows |
| Drill & Practice for Individual Student Games | Scrambled Word Games | PowerPoint Timers |
| Winter Holidays-Christmas | Thanksgiving | Halloween |
| Valentines | Independence Day | St Patricks Day |
| Easter | Football Themed | More Coming Soon |