Everybody Wins: A teachers guide to customizing games for any curriculum
About the Book and Premium Web site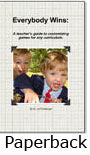 * *Purchase the book in Paperback - from lulu.com * *
- Click link above to purchase the Book in paperback print format
(102 pages, Paperback) $35.00


What do you get?
1. A print edition of the book Everybody Wins will be mailed to you.
2. Complimentary access to all games currently on the Premium Games web site and to all new games placed on the site in the future. Email is sent immediately after purchase with login information.
3. One time book purchase cost. No yearly subscriptions or fees – ever.
Click on this link to purchase book in paperback format now.

Do you need a site license for a School, School District, or Company?
Want to provide a copy of the book and access to the premium games web site to an entire school, district, or company?
Click here to learn more about Site Licensing options.