PowerPoint Games and Game Templates



What is Louie Thinking (Pyramid Game Show)

Similar to Pyramid Game. In this game students will describe words or phrases that Louie is thinking about in an effort to get other students to say those words or phrases. But they have to be fast, Louie only gives them a short amount of time to read his mind! (Whole Class Participation Game)

Download Guess Louie

| Instructions | Office 2007 Instructions | Sample Game | Video Tutorial |

March Mayhem - Basketball

Just in time for the Basketball March Madness. An engaging Basketball game for the whole class! Instructor asks a question, if a student or team gets the question correct, the teacher clicks a button that shoots the ball. Computer then assigns points to the shot. The team with the most points at the end of the game wins. No preparation required, just have a sheet of vocabulary or review questions in your hand and launch the game.
(Whole Class Participation Game)
Available from Premium Games Web Site. Learn More.....

| View Video of Game | Purchase Game Now! |
Big Board Facts (Jeopardy Game Show)

Similar to Jeopardy. Put your who, what, when, where questions onto the board and let students try to answer them for points. Also comes in a "with answers" version that allows the teacher to show the correct answer after the question. The "with Answers" version provides an Answer screen after the question. (Whole Class Participation Game)

Download Big Board Facts
Download Big Board Facts with Answers Slide

| Instructions | Office 2007 Instructions | Sample Game | Video Tutorial |

Racing Games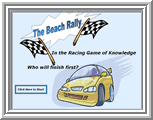 No preparation required, just have a sheet of vocabulary or review questions in your hand. Click a button on the screen and the car or horse moves one step closer to the finish line and victory. (Whole Class Participation Game)

Download Car Race (Beach Rally)
Download Horse Race

| Instructions | Office 2007 Instructions | Video Tutorial |

The Big Wheel

No preparation required, just have a sheet of vocabulary or review questions in your hand. Simply click "Spin the Wheel" and total up the points in the columns on the right. The Big Wheel Elementary is the same except that it has smaller numbers on the wheel. (Whole Class Participation Game)

Download The Big Wheel
Download The Big Wheel Elementary

| Instructions | Office 2007 Instructions | Video Tutorial |
Sunken Treasure

There is treasure buried behind one of the square grids overlaying this picture of islands. Can you find it? No preparation required, just have a sheet of vocabulary or review questions in your hand. (Whole Class Participation Game)

Download Sunken Treasure


| Instructions | Office 2007 Instructions | Video Tutorial |
Align the Stars

Plays similar to Connect Four board game. No preparation required, just have a sheet of vocabulary or review questions in your hand. When a team answers a question correctly they are allowed to pick a star on the board. First team to line up four stars in vertical, horizontal, or diagonal line wins. (Whole Class Participation Game)

Download Align the Stars

| Instructions | Office 2007 Instructions | Video Tutorial |

What's Behind the Box?

Place a picture behind the boxes, then you remove one box at a time until the entire picture is uncovered. Allowing students opportunities to guess the picture all along the way. No preparation required, just have a sheet of vocabulary or review questions in your hand. The 8 block version is quicker since it only has 8 boxes to be removed. (Whole Class Participation Game)

Download What's Behind the Box 8
Download What's Behind the Box 16


| Instructions | Office 2007 Instructions | Video Tutorial |
Space Decoder

A simple space based drill and practice game. Put in your questions, then blast off. Contains five mini games that students progress through. Each game gets progressively harder as the student successfully completes each level. (Single Student Game)

Download Space Decoder

| Instructions | Office 2007 Instructions | Sample Game | Video Tutorial |
Even More Games!

Want to learn more about using digital games like these to enhance teaching and learning? In the book, Everybody Wins: A teachers guide to customizing games for any curriculum , Dr. Jeff Ertzberger takes his knowledge of classrooms and games and shares his strategies for designing games that enhance any curriculum or topic. In addition to the book comes complementary access to Dr. Ertzbergers premium game template web site which contains even more great templates and games for classroom use. The book is available as a digital download, so you can get access to the book and extra templates immediately.

Click here to learn more about the book, and premium template web site. .

Want Even More PowerPoint Games and Game Templates?




Sign Up for Our Email Alerts

Sign up for our email alerts and recieve notification when new games and resources are added to this site. Your email will never be shared with any other party .

Sign up for our Email Alerts