Microsoft Excel Games

Bingo Card Generator

That's right just input all your words or numbers into the cells and hit print. Then click the shuffle button and hit print again. Each time you hit the shuffle button MS Excel creates a two unique bingo cards that you can print out and use. Be sure to read the instructions. These improved bingo card generators have tabs for one card or two cards per page. Note: These games will only function correctly on Microsoft Excel Version 2003 or higher for Windows.

Download Bingo Card Generator 4x4

| Instructions | Office 2007 Instructions | Video Tutorial | Purchase More Now! |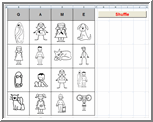 Want more Bingo Card Generators Including ones for Pictures?
Now you can create picture bingo games with ease. That's right just input all your pictures into the cells and hit print. Then click the shuffle button and hit print again. Each time you hit the shuffle button excel creates a unique bingo board that you can print out and use. These and even more games are available on our Premium Web Site with eBook purchase. Learn More....



Self Checking Excel Spreadsheets

You can create self checking excel spreadsheets for any curriculum. In these spreadsheets you use the "If" function to check for right answers, then provide positive feedback to students. Provided below are examples and instructions on creating your own.

Download Instructions
Download Instructions for Office 2007

Download Samples:
| States | Addition | Pictures |



Want Even More Games and Game Templates?
Want more Excel Bingo Card Generators?


Learn how to purchase the Premium Game Templatesweb site and the eBook Everybody Wins: A teacher's guide to customizing games for any curriculum. For less than $20 dollars (US currency) you can have access to all these games and more right now.


Access Premium Web Site with eBook purchase. Learn More....




Sign Up for Our Email Alerts

Sign up for our email alerts and receive notification when new games and resources are added to this site. Your email will never be shared with any other party .

Sign up for our Email Alerts