The ACE Doubles (and Singles): Image Library
The ACE Double had a 21 year life span and went through several unique numbering systems. In addition, the ACE Letter-Number system included single titles (either short novella length stories or longer, often abridged, stories that had originally been published in hardback or serialized in magazines) as well as the tÍte-bÍche (inverted back-to-back) ACE Double volumes. The genres published by ACE Books ranged from Science Fiction to Mystery to Western to a diverse set of publications that I have combined under the all-encompassing category Potpourri.
In these pages I have tried to supply information on the publication history. I use the term "PBO" to indicate a volume that appeared as a paperback volume without a prior edition (usually in hardback). I use the term "1st ACE printing" to indicate that this is the first time it was published by ACE Books. This also means that there is probably a prior edition in either paperback or hardback (which I will try and indicate if known).
The following set of links will take you to the ACE image libraries I have compiled at this time. Please note that these pages are continually under construction. Any corrections or supplemental information should be sent to my email.
Documents, files, links, and images on these pages are strictly for your personal use and information, and many are my property (or the property of people who have graciously given me permission to post them here). They are NOT for commercial use (including eBayTM) and may not be altered, sold, distributed, or otherwise used without specific permission from me or the people who provided permission to the AIL for their use. Thanks.
If you would like to use images from these pages, please contact me at my email.
Have Fun!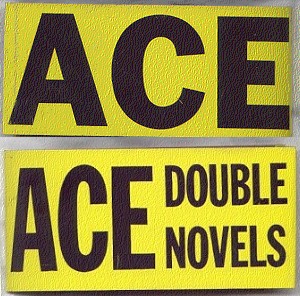 ACE DOUBLES
ACE SINGLES
OTHER ACE PUBLICATIONS
I am always looking for cleaner images for this collection as well as any odd-number SF Doubles (for example see D-121) as well as Western, Mystery, and Potpourri covers. If you have further information or images, please contact me at IronWolf Engine Works.
---
The ACE IMAGE LIBRARY is 25+ years old (August 1997; bloody amazing - at least to me). Thank you to all of the AIL users who have contributed to making this database a primary source for information on the ACE Books publications.
Last update: 09 January 2023