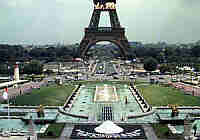 Bonjour, mes amis!
Dr. PJ Lapaire
PJ Lapaire received his BA and MA in English from the University of Perpignan, France with honorable mentions, and then an MA and PhD in French Literature from UNC Chapel Hill. HE first taught at a small private in NC before coming to UNCW in 1985. He was chair of the Department of Foreign Languages and Literatures from 1995 to 99. He has been head of the French section since 1990.
Originally a specialist of mid-twentieth Century French Drama and stylistics, he established himself as a scholar of Nobel Prize winner and "existentialist" guru Abert Camus; PJ was the 13th US member of the international Camus Studies Association. He has published about fifteen articles in "The French Review", "Essays in French Literature", 'Romance Quarterly", "Language and Style", "The Dalhousie French Studies" and others apart from Camus. Several of the articles concern poetry and poetics, notably on Baudelaire, Supervielle and other French poet; other articles concern various literary and creative works by Haitian poet, novelist, and activist Rene Depestre, Marguerite Yourcenar, and others.
He recently worked and is currently publishing on popular culture with a focus on French New Wave novelist (and European popular icon), rock lyricist, and film scenarist Philippe Djian. He is now working on the mid-twentieth century French Colonial Wars (IndoChina, Algeria).
In the 90's, Pj Lapaire published in the US a critical study of French playwright Motherlant's dramatic literay style ("Montherlant et la parole"), and is the author of a collection of poetry published in Paris.
Dr. Lapaire teaches courses at all levels from senior seminars in literature and genres, Camus, current rock music, to advanced grammar and composition, and intermediate and introductory French language. His high-energy and active style of teaching were once described by a past UNCW student as "French calisthenics".
Syllabus and course requirements for 302-303
Grading System for Compositions
Globegate More News 2 More News 4 More News 6
News Flash 1 More News 3 More News 5
Information on Transient Study