"My trip to Spain was the best experience of my life! I learned so much about Spanish culture and made life-long friends. I encourage everyone to study abroad. Don't miss this life changing opportunity!"
-Amanda Viviano

"Studying abroad in Spain not only allowed me to have the time of me life, but it allowed me to gain a new appreciation for Spanish culture."
-Lauren Humphrey.
"Studying abroad in Spain was one of the best experiences of my life! The experiences I had and the friends I met are irreplaceable!" - Hanna Freeman

"One of the best experiences of my life and I would highly recommend everyone travel abroad."
- Alicia Roskind
"The learning experience was great, but the life experience was irreplaceable." I always will remember that trip for how fun it was, and how much I grew as a person and a Spanish speaker"
-Trevor Snell

" I have traveled to many Spanish speaking countries throughout the past five years, but Spain was by far one of my favorites. I spent just over a month in this wonderful country and was able to visit Madrid, Malaga and also Granada. My trip to Spain changed my whole outlook on the Spanish language and is one of the main reasons why I continue to study it to this very day. I am planning on returning to Spain in the fall to visit a few friends and I am super excited! I would recommend anyone who likes to speak Spanish, travel, or just likes new experiences to go to Spain because you won't be disappointed".
- Mike Kane
Approximate cost: $5,000
estimate includes:
*UNCW tuition & fees for 6 credits (payable to UNCW Cashier's Office)
*Roundtrip airfare from Wilmington or Raleigh to Madrid, Spain (payable to designated travel agent)
*UNCW and SAFA costs (honoraria, supplies, support charges, etc.)
*Lodging with Spanish families.
* 3 meals a day & laundry
* Group ground transportation
* Fantastic cultural excursions and activities
¨*Study abroad health insurance
*$225 non refundable deposit. (Deposit is applied towards program cost) .
During orientations students will be advised about how much money they should bring for meals not covered in the program, souvenirs and other activities they might want to do on their own.
Out of state tuition will make the cost of the program higher, please consult with your professor.
Students are eligible to apply for this program if they meet the following eligibility criteria:
* Students must have passed SPN 202 or equivalent course successfully, or placed in 302 after taking the department's placement exam.
* Be a degree-seeking student
* Be at least Sophomore standing at time of participation
* Have good judicial standing
* Have a 2.5 GPA at time of application
*Student must obtain professor's permission to participate. Please email Ms. Jara at jaram@uncw.edu to make an appointment.
*APPLICATION*
1. A complete application package consists of the following 3 forms: 1. Summer and Short Term Education application (Click here to download), 2. Health and Emergency Treatment form (Click here to download ) and 3. Participant Agreeement (Click here to download)
2. Make a $ 225 deposit at the Office Of International Programs by Visa, MasterCard, cash, check or money order payable to UNCW.
(The deposit is applied towards the total cost of the program)
The Office of International Programs is located at 118 Friday Annex (in close proximity to Watson School of Education and Cameron School of Business)
3. Turn in application to Ms. Jara along with a receipt from OIP of your deposit payment.
4. Students not currently enrolled at UNCW must complete a university visiting application, and must also submit official transcripts from all colleges attended, contact
Ms. Jara if you have any questions. (Click here to read visiting application requirements and download application)
5. All Amounts (minus tuition & airfare) are payable to UNCW, and should be directed to the Office of International Programs.
6. Once your instructor tells you is OK to purchase your ticket, you will call or email the travel agent to obtain your ticket and you will pay the traveling agency directly. See Travel agent information below. If you are planning on extending your visit in Europe, make sure to have your itinerary ready when contacting travel agent to avoid changes later which will cost you money.
7. Once you register for your courses you will pay your tuition to the Registrar's office like you normally pay for your courses. See information below
Lizbeth S. Coughlin, CTC
Four Seasons Travel
413 S. College Road #5
Wilmington, NC 28403
910 392-1930 ext 4
Email: liz@4seasonstravelgroup.com
Federal and state financial aid awards may be applied to costs incurred while studying abroad. Even if you are normally ineligible or eligible for financial aid, you should submit a financial aid application- you may find that you are eligible for this trip or that you may receive additional funding. Even though the Financial Aid Office starts accepting applications in March you can arrange a meeting ASAP and get your application on file, the earlier, the better. If you have money available from the current academic year that you have not used, you may use this money toward the cost of the trip. This actually is the best of situations!
Please make an appointment with a financial aid advisor as soon as possible: See information below:

Office Of Financial Aid
King Hall 209
Phone (910) 962-3177
(Click here for more info & forms)
*If you are planning on using Financial aid, it is crucial to let Ms. Jara know from the initial contact. This is in order to help you !
The Office of International Programs is pleased to fund a number of education abroad grants awarded to students who apply to for summer education abroad programs. Selection is based on academic qualifications including an academic reference, academic record, and a personal essay. Any full-time UNCW student earning academic credit abroad on a UNCW-sponsored summer study abroad program may apply. Grants awarded generally range from $200-$700 and are awarded annually in spring.
Grant applications are due by March 15.
Apply by going to the following link: Application for Summer Education Abroad Grant.
Click here to visit the Office of International Programs home page
*SYLLABI & COURSES REQUISITES *
Students participating in this program take a two course combo that earns them 6 credit hours. The courses are highly interactive and geared towards building extra confidence to become more fluent in Spanish. Both courses count towards a major and a minor in Spanish.
SPN 302: (Reading Strategies in Spanish) 3 credits:
Improve your reading skills, speed, accuracy comprehension. Become familiar authentic reading materials from different Spanish genres.
Click here to see course syllabus.
SPN 303: ( Spanish Conversation) 3 credits:
Learn to participate actively in informal conversations on activities related to school, home, leisure activities, personal and public interest, etc.
Click here to see course syllabus
Ms. Marianella Jara
Spanish Lecturer
University Of North Carolina Wilmington
Office: Morton Hall 250
Email: jaram@uncw.edu
Phone: (910) 962-2485
Website: http://people.uncw.edu/jaram/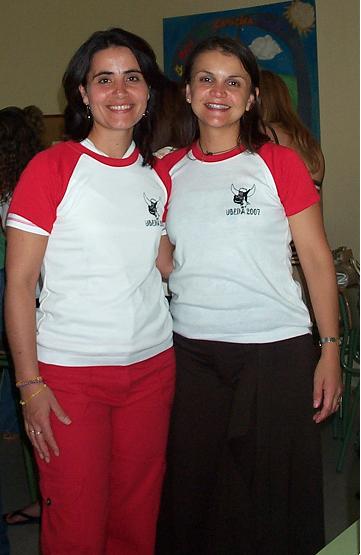 Isabel Ruiz -Left
(English Instructor SAFA)
Marianella Jara - Right
(Spanish Lecturer UNCW)