Books
Hollywood Aesthetic: Pleasure in American Cinema. New York: Oxford University Press (2017)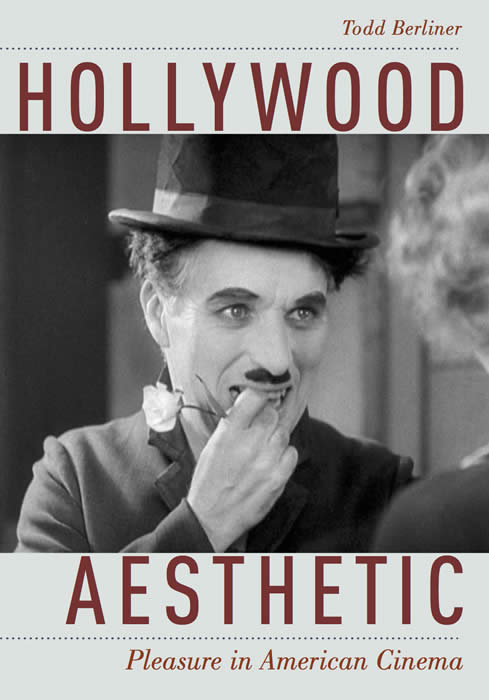 Hollywood makes the most widely successful pleasure-giving artworks the world has ever known. The industry operates under the assumption that pleasurable aesthetic experiences, among huge populations, translate into box office success. With that goal in mind, Hollywood has systematized the delivery of aesthetic pleasure, packaging and selling it on a massive scale.
In Hollywood Aesthetic, Todd Berliner accounts for the chief attraction of Hollywood cinema worldwide: its entertainment value. Analyzing Hollywood in the areas of narrative, style, ideology, and genre, Hollywood Aesthetic offers a comprehensive appraisal of the aesthetic design of American commercial cinema. Grounded in film history and in the psychological and philosophical literature on aesthetics, the book situates aesthetic analyses within the context of film reception, the film industry, and the current understanding of human psychology.
Illustrated with numerous examples, Hollywood Aesthetic analyzes the design of a range of films that span Hollywood history. The book examines films, such as City Lights and Goodfellas, that have earned aesthetic appreciation from both fans and critics. But it also studies curious outliers and celebrated Hollywood experiments, such as The Killing and Starship Troopers, films popular with cinephiles and cult audiences. And it demonstrates the ways in which even ordinary popular films, from Tarzan and His Mate to Rocky III, as well as New Hollywood action blockbusters, like Die Hard and The Dark Knight, offer aesthetic pleasure to mass audiences. Hollywood Aesthetic explains how these and dozens of other Hollywood movies engage viewers by satisfying their aesthetic desires.
Many film scholars dismiss Hollywood cinema as mere commercial entertainment and leave it at that. Hollywood Aesthetic explains how Hollywood creates, for massive numbers of people, some of their most exhilarating experiences of art.
Hollywood Incoherent: Narration in Seventies Cinema. Austin: University of Texas Press (2010).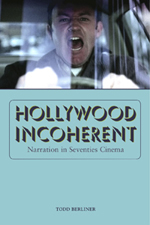 "... a bold and compelling study of the strange, paradoxical narrative style of seventies films.... [Berliner's] lively prose and the delight he takes in explicating the classics of that era make this book a real pleasure to read." — Stephen Prince

"This will undoubtedly become an essential book for future scholars of Seventies Hollywood." — Joe McElhaney, Film Comment. PDF
"I have never seen a more clearly reasoned, felicitously argued, and lucidly written book on what for me is an ever-fascinating subject."
— David Sterritt, Quarterly Review of Film and Video. PDF

MORE PRAISE FOR HOLLYWOOD INCOHERENT
"This is surely one of the most important film books of the decade." — Jim Welsh, Journal of American Culture. PDF

"One of the guiding enthusiasms of Todd Berliner's Hollywood Incoherent is an eloquent, sustained defense of this hybrid form of filmmaking that effortlessly played with both the normative assumptions of classical Hollywood cinema ... and the exciting new styles offered by an auteur-driven international art cinema." — Kevin M. Flanagan, Film Criticism. PDF

"By attributing the accomplishments of 1970s cinema to their 'perverse' narrational strategies in a rigorous and systematic fashion, Berliner has provided an invaluable contribution to the historical poetics of Hollywood cinema. Hollywood Incoherent is the first monograph to posit a general narrative construction of the canonical New Hollywood films in such comprehensive and persuasive terms."  — Aaron Taylor, Projections: The Journal for Movies and Mind. PDF

"Though consistently well-written, intelligent, and intriguing, the book's greatest strength lies in its close readings of sample films—The Godfather, PartII (1974); The French Connection (1971); The Exorcist (1973); Taxi Driver (1976); and A Woman Under the Influence (1974).... Berliner's laser sharp attention to detail of these films—he has great insights too on Chinatown (1974), Nashville (1975), and Dog Day Afternoon(1975)—make us pause again and again over their strangeness."  — Sarah Kozloff, Sympoke. PDF

"The author's arguments and evidence, copious notes, and exhaustive bibliography, as well as pertinent illustrations, combine to make this work an essential resource for scholars interested in film and psychology."  — Mary Otto Lang,The Journal of the American Studies Association of Texas. PDF

"Most previous critics have exclusively focused on the cultural contexts in which the films of New Hollywood were produced, subjecting them to political and ideological 'readings' with little regard fo rthe style and form of the films themselves. Hollywood Incoherent goes a good way to redress this oversight, and will therefore, I suspect, enjoy an enthusiastic reception from a wide range of scholars interested in the aesthetics of film."  — Ted Nannicelli, The British Journal of Aesthetics. PDF
Click here for a list of Todd's favorite seventies movies that you likely have not seen.