UNCW Archaeology Field School
2010
June 22 - July 21, 2010
Ambergris Caye, Belize
---
This web page will provide you with a brief, summary overview of the 2010 archaeology field school at the ancient Maya port site of Marco Gonzalez, located on Ambergris Caye, Belize. Please contact Dr. Scott Simmons at simmonss AT uncw.edu or by telephone at 910.962.3429 for more detailed information.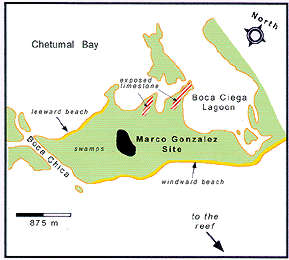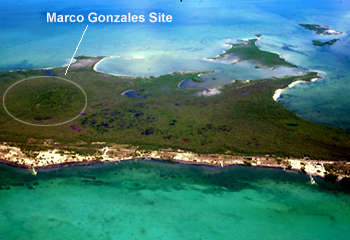 Dr. Elizabeth Graham recording stratigraphy,
Marco Gonzalez site, 1989
---
The Field School in Archaeology at Marco Gonzalez, Belize
22 June - 21 July, 2010
A Summary Overview
Introduction & Setting
The Field School in Archaeology at Marco Gonzalez, Belize is a hands-on training class aimed at preparing students how to accomplish all aspects of archaeological field and laboratory work. It is supported by the Department of Anthropology and the Office of International Programs at the University of North Carolina Wilmington. The 2010 archaeology field school will run from 22 June to 21 July, 2010 and will entail both field excavations and laboratory processing and analyses of recovered artifacts. The course consists of some lectures on a variety of topics related to archaeological field and laboratory research as well as lectures and class discussions on a range of topics on the natural and cultural history of the Maya area. The overall aims of the Field School in Archaeology are to: a) provide students with a thorough understanding and working knowledge of how archaeological research is conducted in the field and the lab and; b) instruct students how and why modern archaeological research is closely integrated with environmental and other anthropological studies. Feel free to check out images here of the 2006 archaeology field school at Lamanai, a large Maya site in the Orange Walk District of northern Belize where Dr. Simmons conducts archaeological research.
The setting for the course is the off-shore coastal environment of northern Belize. Specifically, students will be instructed in laboratory and field mapping methods and techniques at the ancient Maya site of Marco Gonzalez, located on Ambergris Caye, the northern most island in Belize (see maps below). Marco Gonzalez was occupied from the Late Preclassic or Formative Period to possibly as late as the beginning of the Spanish Colonial Period, ca. 1544 AD (Graham and Pendergast 1989). At its height in the Postclassic Period, between roughly 1150-1300 AD, members of the community had strong ties with the residents of Lamanai. The first researchers to work at the site in the mid-late 1980's, Drs. David M. Pendergast and Elizabeth Graham, believe that the two sites may have shared political relationships that are reflected in close similarities the sites shared in material culture, specifically the ceramic artifacts. It is possible, although by no means certain, that Marco Gonzalez functioned as one of Lamanai's principal ports of trade. The research UNCW students will conduct in 2010 will help provide further insights into the kinds of political and economic relationships members of each ancient community shared during Postclassic times. The site is administered by the Belize Institute of Archaeology and is home to a wide variety of tropical plant and animal species that occupy an array of microhabitats.
Cultural Immersion and Language
Students will live as resident guests in the town of San Pedro, a community comprised of a variety of Belize's different ethnic groups, including Creoles, Mestizos and some Maya peoples. San Pedro is the principal tourist town in Belize, in large part because of its proximity to the barrier reef, which is the longest in the western hemisphere and the second longest in the world (see images of the town and reef here). There are many dive shops, hotels, restaurants, bars and other businesses in San Pedro town. Several streets have recently been paved, but vehicles are relatively uncommon and golf carts and bicycles are the primary means of transportation for most residents and visitors to the island. There is 24 hour electricity on the island.
English is the official language of Belize, but Spanish is spoken in a great many homes and local businesses by Belizeans, so students will have innumerable opportunities to converse with 'San Pedronos' in Spanish. Students will have daily interactions with local Belizeans in the hotel, restaurants, and in daily exchanges in stores and shops throughout San Pedro town. In short, by living, eating and socializing in the town students are totally immersed in local Belizean culture.

Safety, Health, and Security Issues
Safety is an important concern for the archaeology field school in Belize. Students are advised on the kinds of physical labor that are entailed in archaeological fieldwork (see below), and they are also advised of current field conditions in northern Belize during the summer months (heat, humidity, insects, etc.). Students are advised well before the program begins on health issues, such as outbreaks of malaria, and are told they must consult with their family physicians/health care providers prior to leaving the country. Students are required to have an up-to-date tetanus shot, and it is strongly recommended that they obtain a prescription for a malaria prophylaxis prior to their departure date. Students are provided with bottled drinking water in their houses and are provided with bottled drinking water on-site as well. Arrangements will be made prior to the students' arrival for emergency transportation to known locations of hospitals and clinics in the event of a medical emergency. Students are met at the airport in Belize City and transported directly to Belize City, where they will then take a ferry to Ambergris Caye. San Pedro is still fairly small in size but it is growing rapidly. Because of the presence of tourists and general economic conditions in the country crime exists in San Pedro, mainly street thefts and break-ins. Students are advised to stay together in groups at night, and not to be out late in the evening hours. Dr. Simmons will live in a house in the same compound as the students, so he is literally a stone's throw away in case of any emergency.

Student Grading
Student participants will be graded in three ways for this course. One of their grades will be based on the content and presentation of their field notebook, which is a professional record of the field methods they use, their archaeological finds, and drawings and other notes they make on the areas in which they excavate. Each student will be required to keep a field notebook (Chartwell) during the four-week course. These field notebooks will contain information presented during course lectures, field and lab work activities, in-field participation with other researchers, and other pertinent field observations. Students will be assessed on the basis of the accuracy and thoroughness of the data they record. Students will also be graded on the content and accuracy of laboratory data forms they complete on materials they excavate at Marco Gonzalez. Students will create scaled drawings of artifacts, collect and accurately record qualitative and quantitative data on various classes of artifacts, create and maintain databases and make informal notes on the lab and mapping methods they learn and use. Finally, students will be graded on their class participation and general attitude during the course. Student participation in all activities is expected, as is a positive attitude and demeanor.
Dr. Scott Simmons has conducted archaeological research in Belize since 1986. He is the Archaeology Field School Director and Co-Principal Investigator at Marco Gonzalez (along with Dr. Elizabeth Graham). Dr. Simmons is responsible for all aspects of the field school course, including lectures on archaeology and Maya anthropology, in-field instruction and supervision, and direction of all laboratory work. He has directed eight separate archaeology field school sessions in Belize, all at the site of Lamanai (in 2001 [two sessions], 2002, 2004, 2005, 2006 [two sessions] and 2008. In those six years well over 100 students have participated in the UNCW archaeology field school in Belize.
---
Field School Essentials
Field School Costs/Expenses

Tentative Schedule/Course Syllabus

Life in San Pedro town and Belize

Some Tips for Enjoying your Field School Experience

General Information About Belize
Where is Belize?
San Pedro Town, Ambergris Caye, Belize