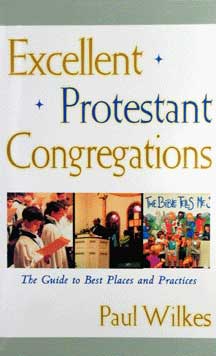 Click here for a look at the churches features in this book
Buy this book from Amazon.com
Buy this book from Westminster John Knox
While many individuals might seek after an assortment of spiritual practices and approaches, the local congregation still remains the place where most Christians turn for religious education, nurture, ritual, and a sense of community. Yet many congregations struggle to respond to the spiritual needs of new faces in their pews.

In Excellent Protestant Congregations, respected religious journalist Paul Wilkes profiles eight dynamic, geographically and denominationally diverse congregations that have a distinct ability to create a vibrant community of worship. Wilkes draws out the "points of excellence" that lie beneath each congregationís success and vitality. From hosting luncheons after funerals to organizing powerful life-changing retreats, from developing a capital campaign to getting volunteers to cheerfully do work for the church, Excellent Protestant Congregations provides real-world insights that are both inspiring and applicable in a local congregation. The geographic listing of over 300 excellent Protestant congregations and an index guiding readers to specific topics such as stewardship, bereavement, and how to reach Gen Xers, make Excellent Protestant Congregations an invaluable resource for church life.

About the Author

Paul Wilkes is author of over a dozen books, including Beyond the Walls: Monastic Wisdom for Everyday Life (Doubleday, 1999); The Good Enough Catholic: A Guide for the Perplexed (Ballantine, 1996); And They Shall Be My People: An American Rabbi and His Congregation (Ballantine, 1994). Producer of two series ("Merton" and "Six American Families") for PBS. Articles in The New Yorker, New York Times Magazine, The Atlantic Monthly, The Nation, Commonweal.