About my Malinoski guitar: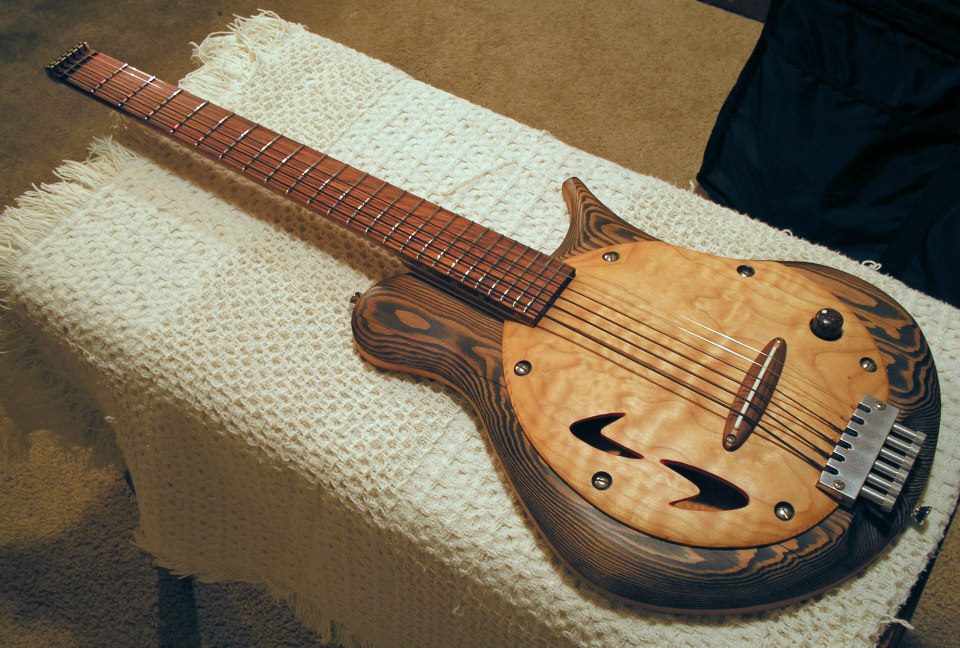 I first met Peter Malinoski in September 2012 at the Southeastern Guitar and Amp Show in Raleigh, NC. In a sea of Strat and Tele "upgrades", Peter's work pretty much smacked me upside the head, as we Southerners say. At first, I was drawn to the unusual designs and striking appearances of his guitars - they didn't look like anything I'd ever seen before. Then I got to talk to Pete and learned that his designs were more than just beautiful-looking: they played great and sounded as good as they looked. He doesn't take anything for granted; his guitars' features are based on a thorough re-imagining of what guitars can be, not what they used to be! I came away from our conversation liking Pete a lot and being impressed with his aesthetic sense, his integrity and his originality of thought.

Now, a couple of months and several emails and phone calls later, the fruit of that meeting is pictured above! The Headless Mini-Fez is a custom Malinoski creation, one of a kind. The body is 200-year-old reclaimed Douglas fir. The center plate (not a pickguard; it's an integral part of the design) is quilted maple. The fingerboard is Bolivian rosewood. The neck is a laminate of maple and mahogany with adjustable truss rod and carbon-fiber rods for extra stiffness. The Mini-Fez has a piezo under-saddle transducer; its preamp is outboard so as not to mess up the cleanliness of Pete's design with a tacky plastic box! (Pete built a custom wooden box for the preamp.) The only knob is a volume knob, made of tigerwood. Tuners are an ABM headless system with very high turn-to-pitch ratio; they work like a charm. Frets are Jescar stainless steel. UPDATE: For even more versatility, the Mini-Fez will soon be getting a magnetic pickup and stereo routing system... I can't wait!


The quality of Peter Malinoski's work is impeccable. He is truly a guitar-making artist. This guitar plays like a dream and sounds wonderful - a perfect mix of acoustic definition and electric fullness. In forty-seven years of guitar playing, I have never owned an instrument this comfortable or this toneful. I plan to play this baby into the sunset!!

If you're thinking of having a guitar built for you and you're looking for something more than the usual traditional answers, I strongly recommend that you contact Peter Malinoski. He quite literally made my dream come true!