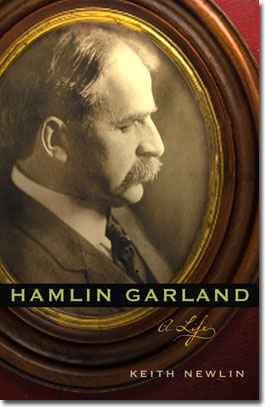 PRAISE
"This biography is a brilliant reconstruction of the life and times of America's great prairie realist. Newlin faced a daunting task in taking up the life of a writer whose fame occurred mainly at the beginning of his career with
Main-Traveled Roads
. Here he has provided invaluable details to fill in the interstices of this period of originality. But he has also masterfully narrated the rest of this fully engaged literary life with insight, wit, and deep perception. The prose is eminently readable, and the story flows as if it were a novel."—Jerome Loving, author of
The Last Titan: A Life of Theodore Dreiser
"Keith Newlin's
Hamlin Garland: A Life
is a major achievement. Newlin has compressed an enormous amount of research and commentary into a clear and absorbing narrative that constitutes the first fully authoritative account of Garland's entire life and career. Garland's major role in the late nineteenth- and early twentieth-century American literary and cultural scene is rendered with insight, and the book as a whole is a significant contribution toward the understanding both of Garland and his times."—Donald Pizer, Pierce Butler Professor of English Emeritus, Tulane University, and author of
Hamlin Garland's Early Work and Career

"As a biography of Garland it is unsurpassed, and it is also an invaluable work of scholarship in enriching our knowledge of American literary history from William Dean Howells to Garland and Stephen Crane, and from Garland to Eugene O'Neill and Sinclair Lewis."—Roger W. Smith, Studies in American Naturalism

"In highly readable, refreshingly clear prose, Newlin takes the reader through each phase of Garland's life and career. . . . This biography of Garland will undoubtedly stand as the most definitive one for years to come."—C. Johanningsmeier, CHOICE
"Garland's story is expertly and thoroughly examined. . . . Hamlin Garland: A Life deserves a place in the library of every person interested in the depictions of rural life or the early history of Dakota Territory."—Jon Lauck, South Dakota History Quarterly
Hamlin Garland, A Life
By Keith Newlin
Order from the
University of Nebraska Press, 2008
ISBN 978-0-8032-3347-8
ABOUT THE BOOK
In recognition of his achievements in literature, Hamlin Garland (1860–1940) received four honorary doctorates and a Pulitzer Prize. Keith Newlin traces the rise of this prairie farm boy with a half-formed ambition to write who then skyrocketed into international prominence before he was forty. His life is a story of ironic contradictions: the radical whose early achievement thrust him to the forefront of literary innovation but whose evolutionary aesthetic principles could not themselves adapt to changing conditions; the self-styled "veritist" whose credo demanded that he verify every fact but whose credulity led him to spend a lifetime seeking to verify the existence of spirits. His need for recognition caused him to cultivate rewarding friendships with the leaders of literary culture, yet even when he attained that recognition, it was never enough, and his self-doubt caused him fits of black despair.
The first and only other biography of Hamlin Garland was published more than forty years ago; since then, letters, manuscripts, and family memoirs have surfaced to provide, along with changing literary scholarship, a more evaluative and critical interpretation of Garland's life and times.
Hamlin Garland: A Life
is an exploration of Garland's contributions to American literary culture and places his work within the artistic context of its time.
Read an excerpt (.pdf)
PRESS
PRAISE
"Thanks to Keith Newlin's exhaustive and eloquently written biography, we now have access to the entirety of Hamlin Garland's quirky, historically revealing life. . . . [
Hamlin Garland: A Life
] is a biography that will serve as a resource to Garland scholars and as a detailed portrait of artistic networks spanning the end of the nineteenth and the beginning of the twentieth century."—Philip Joseph,
Western American Literature
"Hamlin Garland: A Life
is an impressive achievement and an invaluable resource to literary scholars and researchers."—Jeffrey Swenson,
Resources for American Literary Study
"Newlin's monumental and seminal biography of the 'dean of American letters' is . . . the story of a complex man, a writer and thinker of enormous influence in American letters and culture across two centuries." —Thomas K. Dean, Annals of Iowa