<![if !vml]>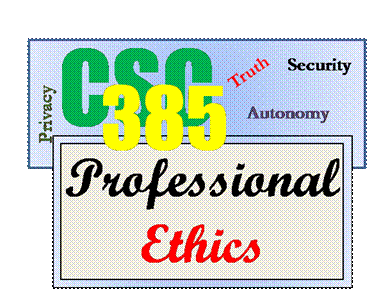 <![endif]>
Department of Computer Science
CIS Building Room 2046
Tel: 910-962-3819
simmondsd [at] uncw [dot] edu
_________________________________________
"Examination of Ethical Issues, Discussion of Alternate Choices and Analysis of implications and Consequences."
_________________________________________
Welcome
It is my pleasure to welcome you to csc385 – Professional and Ethical Issues in Computer Science. In this course we examine ethical issues surrounding the development and use of computer and related technologies. 
The course meets TR 12:30 – 1:45pm CI 1012. My office hours are MW 1:00pm – 2:00pm, R 2 – 3pm or by appointment. My office is located in CI2046. . Information on lectures may be found on the lectures page while assignments and grades are available on Canvas.
Feel free to contact me if you have questions or comments.