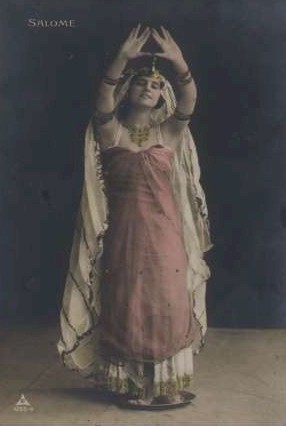 Hedwig Reicher in a German version of Oscar Wilde's Salome. She's apparently dancing on the platter she will carry John the Baptist's head on later. Reicher played Salome in 1908. Interestingly, her father was an actor, and the actor who created the role of Herod in the first German production about 10 years earlier was named Reicher. Her father? Reicher went on to become a dancer and bit part actress in Hollywood, where her brother was a director.
<![if !vml]>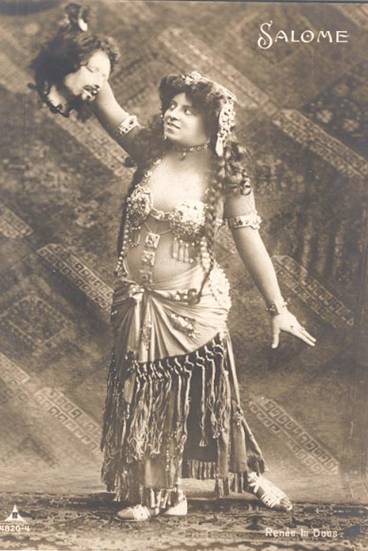 <![endif]>
Renee la Dous as Salome. I know nothing about this artist, but she was probably dancing in variety theater sometime between 1908 and 1918, my guess is on the earlier side. Her prop, the head of John the Baptist, was the usual one for imitators of Maud Allan's "The Vision of Salome." I'd love to hear from anyone who can identify the type of jewelry on her costume.
<![if !vml]>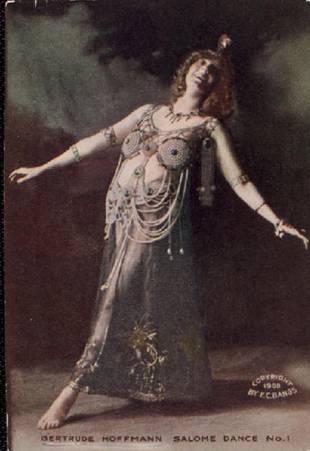 <![endif]>
Gertrude Hoffmann as Salome. Hoffman was a popular vaudeville entertainer and a real power in the field. She was known for her revues that imitated the famous dancers of the day. When Maud Allan made a hit in Europe with "Vision of Salome," Hoffmann went to see her and brought back the dance, which she performed for American audiences. Hoffmann also choreographed several oriental extravaganzas in her history as a theatrical entertainer, making her an important mediator of the idea of the orient for Western vaudeville audiences.
<![if !vml]>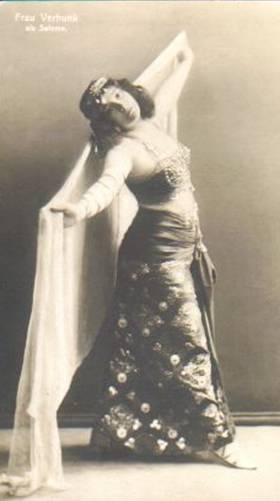 <![endif]>
Frau Verhunk is an operatic Salome, probably dating from the early performances of Strauss's opera Salome (with a libretto from Wilde's play) in the years between 1905 and 1908. Strauss's opera, like Wilde's play, specifies a dance of the seven veils, but like most other opera Salomes in their publicity photos, Frau Verhunk has only one. Interesting how much it resembles a modern belly dance veil -- though I guess the cut is pretty obvious!